On Saturday 2nd March 2013, 262 divers joined Paul Rose and collected tons of rubbish in response to his call to action to clean up Lake Windermere and help raise awareness of ocean debris.
Seven tons of junk was recovered including a fully working toilet complete with cistern and ballcock and an outboard motor for a boat. There were also 73 car tyres and at least four car batteries along with all the usual tin cans, plastic and glass.
It  was a great success, captured people's imagination and raised awareness on a very important global issue.
Paul says, "We took out enough rubbish to fill a shipping container but this is only a small percentage of what still lies on the bottom. It's a sobering thought that this is the way we treat our beautiful lake and reflects the way we disrespect our oceans".
The day was a fantastic response to a call for action and shows that with enough enthusiasm we can have a positive impact on our waters. We'll be doing more!"
NEWS FLASH 15TH JUNE 2013:
The great Windermere Monster Sculpture project building starts on Friday 21st June and runs to Sunday 23rd June! Come to Merz Barn and help us turn our dive debris into a 20 metre long Windermere Monster! Just come anytime or call Ian Hunter at 015394 37309 for more information. I'm looking forward to seeing you there.
Paul Rose collecting debris in the Lake Windermere Debris Dive
News coverage selections:
BBC News
ITV News
BBC One Show
National Geographic
Westmoreland Gazette
Impact International
BSAC News
Friends of The Lake District News
Keep Britain Tidy
Resource Magazine
USA News
Top News Today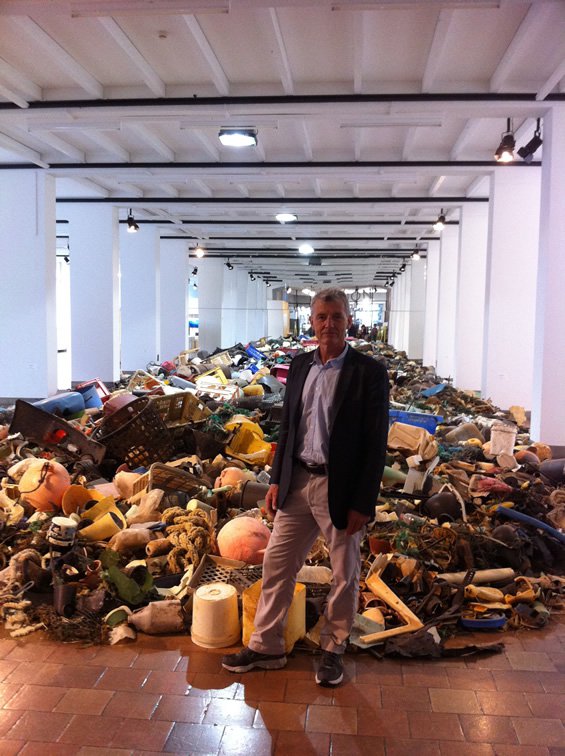 Paul at the Zurich Museum of Design with the amount of debris that enters our seas every 15 seconds
"The amount of debris entering our seas is so vast that it's practically immeasurable. And as our oceans are the largest, least understood and least protected ecosystem on the planet, it can be difficult to grasp the problem.
By debris-diving inland lakes and then producing beautiful works of art from the rubbish I surprise and engage large audiences in the ocean debris issue.
When we look at the rubbish collected from my lake dives it's easy to draw parallels with the ocean debris as it brings things into a smaller scale".
Ocean debris leadership from Lake Windermere!

At the heart of the beautiful Lake District National Park, Lake Windermere is the largest lake in England. It's pristine waters are the pride of the nation and by collecting the rubbish from the bottom we are cleaning up the lake and drawing important parallels with the ocean debris issue.
 Teams of divers from all across the UK made a series of dives in the Bowness area of Lake Windermere to collect debris from the lake bottom that has accumulated over many years.
This underwater "treasure" is being transformed into beautiful sculptures and objets d'art by school groups. These works of art will then be displayed and auctioned to raise funds for charity. Our art partner is the Kurt Schwitters Merz Barn project who will help us build the world's largest Merz rubbish scuplture!
Kurt Schwitters' work is currently at the Tate until 12th May 2013.
Participating schools are:
Langdale Primary
Hawkshead Primary
Lakes School
John Ruskin - Coniston
Langdale School
We invite all artists and schools to join us in the art project. Just contact Ian Hunter at Merz Barn or Paul Rose.

A big THANK YOU to the Partner Organisations:

Impact International
Kendal and Lakes Sub-Aqua Club
Lake District National Park
The Lake District Boat Club
Mertz Barn
Blue Foundation
Jetties and Moorings Marine Construction
Jewson Kendal
Friends of the Lake District
Windermere Reflections
Capernwray Diving Centre
PADI
Sport Diver Magazine
Project Aware
Scubapro
BSAC
O'Three
Plastic Oceans Foundation
Bowstone Diving Products
Diver
SCUBA
Windermere Lake Cruises
Learnfest
Royal Windermere Yacht Club
Inspiration Marine Group Limited
Windermere Aquatic
Freshwater Biological Association
Marine Biological Association
Montane
Westmorland Gazette
Brathay Trust
Ghyll Head Outdoor Education Centre
South Lakeland District Council
Cumbria Wildlife Trust
Net'Léman
South Cumbria Rivers Trust - invasive species information
Ben Barden Film Production
Hivis
Ocean debris news and information
Midway. A film by Chris Jordan
National Geographic
NOAA
Plastic Garbage Project
Cereplast
Ocean Health Index
Marine Conservation Society
Surfers Against Sewage
Marine Debris Solutions
Wikipedia
Cumbria information
Merz Rubbish Art
GoLakes
Cumbria Tourism
Visit Cumbria
Lake District National Park
BBC News Cumbria