In April 2012, Paul has led another Greenland expedition tracing a new 250 km Greenland icecap ski-mountaineering route, making first ascents of remote mountains enroute and summit Gunnsbjornfjeld - the highest in the Arctic.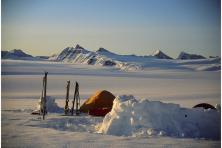 Paul has been working professionally in both Antarctica and the Arctic since 1991. He is a very experienced and sought-after Polar Guide and expedition leader. 
His Greenland work includes leading several Greenland ice cap crossing expeditions and mountaineering expeditions in the Watkins Mountains of East Greenland. Ascents have included Gunnsbjornfjeld, the highest in the Arctic, by the rarely attempted North Ridge route and the south ridge. Mountains Cone and Dome, the second and third highest in the Arctic. First ascents of Jubilee Peak, Paul's Mirage and Mt Eggars. He has been working in Greenland since 2002 running Polar Training programmes and leading science and adventure expeditions.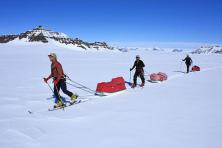 In April 2012 Paul will lead a team to attempt a new 250 km ski traverse of Knud Rasmussen Land. The team will fly into Constable Point (Nerlerit Inaat) and then travel by skidoo on the sea ice of Hurry Fjord south to cross the frozen Scoresbysund Fjord (Ittoqqortoormiit) to the Brede Glacier to begin the ski journey.
The 250 km journey will take 30 days and is a world's first crossing of the Knud Rasmussen ice field. The team will attempt a number of unclimbed mountains and travel new glacier routes enroute to Gunnsbjornfeld where they will attempt the north ridge route.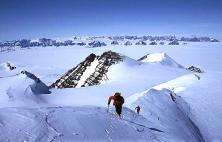 The expedition departs the UK on the 13th of April 2012 and they expect to be picked up by ski equipped twin otter aircraft approx 16th May for the flight back to Constable Point.
Paul will be making live updates via satellite phone for press and media along with reports on Twitter!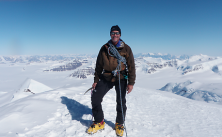 Paul will be returning to Greenland in August 2012 to run boat support for expeditions and to make new climbing ascents in the mountains of Renland.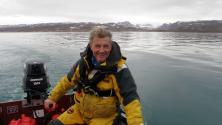 Contact Paul for updates on his expeditions schedule and to apply to join future journeys.