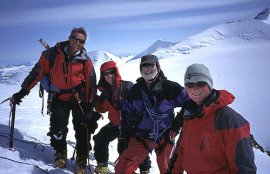 Expedition Training - Tools of the trade
Project planning. Sponsorship. Logistics. Technical training – diving, climbing, sailing, caving, skiing, navigation. Mechanical training. Field camp management. Equipment selection.
Expedition Health and Safety - How to get this right
Legal responsibilities. Policy. Accident reporting. Risk Assessments. Organisation and implementation of Emergency Response Planning.
Paul is a Mountain and Polar Guide leading Greenland Icecap crossing expeditions, polar science support logistics and mountaineering expeditions. He was a Mountain Safety consultant to the oil industry in the Middle East. He advises and provides operational support to expeditions, charities and business in Health and Safety, Fieldwork, Diving Operations and Expedition Training.
Contact Paul for remote location guiding and support for science groups, NGO's, business, media and individuals. Field operations advice, expert analysis, comment or audit.